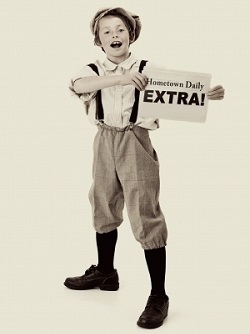 Newspapers have been around, in one form or another, for over six hundred years. Sensationalized accounts of Vlad Drakul's atrocities began circulating in Germany in the late 15th century, and by the early 17th century the tradition had made its way into English-speaking cultures, with The Weekly Newes being, as its name implies, the first weekly news publication, soon to be followed by a number of other circulars in the newsbook format. The first weekly publication that would be recognized by today's readers as a true newspaper was the 1666 London Gazette, which for a time was the only officially sanctioned newspaper. By the end of the 17th century, the periodical format was well established and many unauthorized publications were in circulation.
The first newspaper in the New World was the Publick Occurrences, published in Boston in 1690. At the time, the Gazette was still the only official newspaper; the Occurrences' author and publishing staff were quickly arrested and all known copies destroyed. The first successful colonial newspaper, founded by John Campbell in 1704, was the Boston News-Letter. Heavily invested in by the colonial government, the paper nevertheless saw very limited circulation and was considered a failure. Newspapers took a firmer hold in the colonies over the 18th century and by 1783, the end of the Revolutionary War, there were forty-three regularly printed periodicals in the new United States.
The importance of print was further cemented when the Bill of Rights was passed in 1791; its guarantee of freedom of press further solidified an industry that had long since established its importance to both government and governed. Another major breakthrough occurred during the 1830s, with the emergence of the so-called "penny press". Prior to this time, only the wealthy and well-off read newspapers; now, anyone could afford to buy one, and the advent of near-universal literacy among the American public is attributed by many to this vast increase in the availability of reading material.
In the second half of the 19th century, the industrial revolution brought the same impact and sweeping changes to the print news industry that it did to every other aspect of American life. The 1850 US Census cataloged around 2500 newspapers in regular print; by the 1880 census, that number had more than quadrupled and over 11,000 papers were in print. The massive, powerful printing presses that came into being in the 1850s enabled the regular printing of pictures and newspapers began to add elements like the now well-known banner-style headlines, comics (or "funny") pages, and extensive sports coverage. Many other elements of the modern newspaper arose during the same time period, particularly media consolidations – as large newspaper chains swallowed up the small local periodicals – and yellow journalism – the practice, spearheaded by William Randolph Hearst, of utilizing print media to incite national fervor or panic. By 1910, the newspaper as most of us know it today was solidly established.