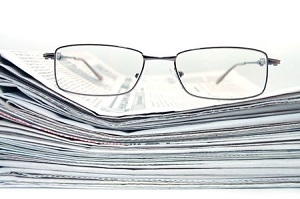 Newspapers have been publishing obituaries in one form or another for hundreds of years. This longevity makes them a valuable resource for genealogy research and for historical information. This outline is presented as a guide for people looking to research newspaper obituaries and also for those that are looking to publish one.
Death Notice vs. Obituary
While death notices are designed to provide summarized notification of the recently deceased and related arrangements, obituaries are meant to present memorialized statements and pictures of the lives of loved ones who recently died. As such, death notices should be drafted in concise formal terms that include the bare minimum details like the decedent's name, date of death, and information regarding funeral service arrangements. By contrast, an obituary should take a personal tone that includes many character details to portray the deceased person in the most positive light possible. Common examples are major life achievements, extended family members' names, previous occupations or places of employment and pictures of the deceased. Also, it may be prudent to publish an obituary in each local newspaper where the decedent resided during their life.
Obituaries Can Help Add Branches to Family Trees
Newspapers have existed in some form long before the United States was first formed during the late 18th Century. Likewise, the Modern English word "obituary" derives its origins from an Old Latin term "obit", that denoted "death". Given combined lingual and tangible longevity, obits offer valuable information that can greatly enhance further genealogy research efforts.
A single news obit can provide many hints that can help you hit pay dirt, whether it first went to print yesterday or several centuries ago. A prime example of the kind of information you can find is the names of distant, but direct linear ancestors. Another might be the dates and places of residence or employment that often prove to be quite valuable assets.
Still a third type of item often featured in obits is vital data about some debilitating chronic disease or even a freak but fatal accident. Such details can lead right to more detailed original sources like old medical records of the deceased. Likewise, ditto goes for names of non-related friends and close associates of the decedent. Just a little bit of logical deduction might lead to far more than you ever dreamed.
Funeral Home Records
Although precise specifics vary a bit, the vast majority of morticians' files contain the same basic data that death notices convey. However, funeral parlor records often list extra tidbits like occupation, marital status, prior military enlistment and names of parties who arranged final commemorative services and the presiding officiant.
U.S. Census Bureau
Another efficient genealogy research methodology is to review old U.S. Census Bureau records. Federal censuses taken from 1850 to 1940 include personally identifying data for each family household member such as birthplace, both parental birthplaces, immigration date, customary occupation and crops cultivated.
Social Security Death Indexes
A third goldmine freely offered by the federal government that's often neglected is the Social Security Death Index (SSDI), aka our nation's "Master Death File". The primary source of potentially highly valuable SSDI data resides in federal law that allows public access to the original SSN application filed for each person listed therein as deceased.