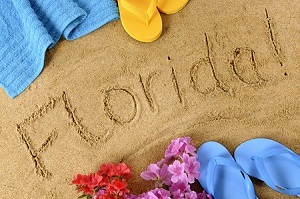 Florida residents are probably some of the most fortunate people in the entire United States. They get to live in one of the warmest areas with some of the greatest beaches in the world. Even their public records legislation is called The "Sunshine" Law. The dual play on words refers to the sunshine that the state is known for and to the light that the legislation shines on the activities of the politicians and the government.
The Sunshine Law is just part of the state's public records laws. There is also the Florida Open Meeting Law that requires all meeting of governmental bodies to be considered public. These laws require the government to be very open with its activities however it can still be challenging to find public records in the sunshine state. The following overview is specially tailored to help you acquire public records in the state of Florida.
Vital records
For very good reasons, these types of government public records are probably in the greatest demand. Prior to 1899, a small group of local Florida governments enacted ordinances to require official recording of residents' major life events with vital importance to public interests, and implement localized internal systems to maintain such files in an organized manner. Key West keeps the oldest known localized public records database in Florida that dates back to 1865. A state statute enacted in 1927 provided for the establishment of a centralized source of statewide marriage and divorce records.
Per most recent available reported count, the Florida State Vital Statistics Bureau maintained more than 25 million public records. In addition, local County Health Departments maintain both statewide and countywide birth and death records dating from 1917 to the present.
Florida Department of Health, Bureau of Vital Statistics
P.O. Box 210
1217 Pearl Street
Jacksonville, FL 32231
Phone: (904) 359-6900
Property records
All tax records for personal and real property in Florida are maintained by the Property Appraiser's Office located within each county. Most County Appraiser's Offices provide online databases for public access that are searchable by parcel number, subdivision or owner's name, property type, street address, legal description, sales data or via interactive virtual mapping tools.
Court and Criminal Records
Florida's state court system features four separate tiers, each of which has unique jurisdiction at distinct levels. The first and lowest rung consists of County Courts that deal with lesser misdemeanor, traffic infraction and small claims cases under $15,000. Next come Circuit Courts, which hear County Court appeals, felony criminal trials, and family law, probate, mental health, guardianship and juvenile criminal cases. Third are District Appeals Courts with vested powers to review lower court rulings that involve public utility disputes, capital punishment or constitutional law issues. Finally, the Florida Supreme Court comprises the entire fourth level of statewide judicial resort.
County Jail Inmate Records
Visit Florida's VINElink subpage provided by Victim Information and Notification Everyday (VINE) that's publicly accessible 24/7/365. To receive free auto- alerts when inmates are sentenced, transferred or released from any of Florida's 67 local County Jails, you can register free of charge.
State Prison Inmate Records
The Florida Dept. of Corrections provides a centralized publicly accessible online resource with several comprehensive databases that may be searched by offenders' names to obtain their current legal status as Absconder/Fugitive, Escapee, Inmate Population, Released and/or Supervised Population.
Statewide Sex Offender Registry
The state of Florida provides an online resource at the official government website that includes pictures, street addresses, employment information, email addresses and other Internet identifiers as well as similar data about registered sex offenders.